Bathroom Renovation
Beautiful bathrooms are more than just a private haven to relax, rejuvenate, and refresh yourself.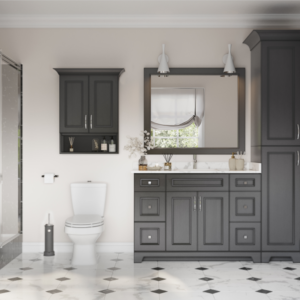 They also upgrade the value of your home. From a functional space to a luxurious one, a bathroom renovation can transform your home to add the "wow factor" that many homebuyers look for. Upgrading it with modern amenities or adding little touches that give it more character can make a big difference. How about a personal oasis with a jacuzzi, walk-in waterfall shower or premium cabinets to infuse more style? Our professional designers and bathroom renovation contractors at JJ Cabinet are adept at remodeling your existing space within your budget and create the oasis you've always dreamed of.
How to Renovate Your Bathroom?
Little modifications can make a big difference. Try installing custom cabinetry, a stand-up shower, glass enclosure, textured walls, and see how your bathroom elevates to another level of elegance. Set a budget before you start considering every family member's preferences then plan carefully. Make sure the height of the countertop is accessible for small children. Pay attention to storage needs for your grooming products even as you remodel aesthetics. To maximize your investment, you have to consider durability, maintenance, and functionality. Your budget must include plumbing, electricity, fixtures, flooring and paintwork.
Why Choose JJ Cabinet?
A bathroom renovation involves more than just cosmetic changes. In a well-designed space, each corner should be well optimized, or else it will look cluttered. Storage is of prime consideration, so personal items are out of sight. But renovation can take up a lot of time, effort, and investment.
At JJ Cabinet, we feel renovation projects are full of exciting possibilities. We specialize in cabinetry and bathroom vanities. We offer high-quality, affordability, and quick delivery. Our expert bathroom renovation contractors make sure that you get the most out of your budget. From inspiration to installation, from transforming the smallest bathroom into a luxurious area to making a spacious one more cozy, we do it all. We offer a wide variety of countertops such as quartz, marble, and granite and specialize in custom cabinetry from fine woods such as maple and oak. Check out our website to see how we can upgrade yours beyond your expectations.
Free Bathroom Design
Work directly with our Design Team in creating the ideal design for your new bathroom. Plus, our design service is 100% Free for all customers.